I've been reading Chris Brown's excellent new book, The Art of Smart Football. One of the passages in Brown's book about legendary head coach Sid Gillman stood out to me:
Realizing that a football field is nothing more than a 53⅓-yard-wide geometric plane, Gillman designed his pass patterns to stretch defenses past their breaking points. His favorite method was to divide the field into five passing lanes and then allocate five receivers horizontally in each one. Against most zones, at least one receiver would be open.
Below is an example of what Gillman was referring to:1 you can see that, horizontally, one target will end up in each fifth of the field: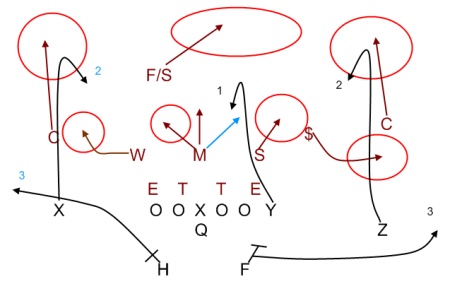 When it comes to pass patterns, the receivers are the players on the attack, and there's a relatively wide variance in how effective a receiver can be (i.e., he can get open all the time, some of the, none of the time, etc.). But the players in pass coverage should be viewed in a different way: all they can do is mitigate the player in front of them.
If a cornerback is going against Odell Beckham Jr., then the skill level of that cornerback is really important. But if the cornerback is going against the Browns, the skill level of that cornerback isn't nearly as important — or as valuable. During Darrelle Revis' first stint with the Jets, there was a period of time where the Patriots top targets were Wes Welker, a slot receiver, and two tight ends: Rob Gronkowski and Aaron Hernandez. As a result, the Jets weren't getting quite as much value out of having the game's top shutdown cover man when playing the team's biggest rival. That's because Revis was stuck covering Deion Branch. Revis was a very valuable for the Jets to have on their roster when playing say, the Lions, but his skill level was in some ways "wasted" when facing the Patriots.
That's a key difference between a player whose main job is to attack, and a player whose main job is to prevent the other player from attacking. The former is always valuable; the latter can only mitigate the other player's value.
There's another element at play here: the "mitigators" are also reliant on each other. Darrelle Revis is valuable on two sets of plays: those pass attempts when the opposition throws directly at him, and pass plays where the opposition is forced to make a tougher throw because the quarterback doesn't want to throw at Revis. The Jets were wise to add Antonio Cromartie and Buster Skrine to the team this offseason along with Revis, because opponents are going to test the other Jets cornerbacks. Revis — or any other mitigator — becomes less valuable if another mitigator is bad at his job.
Think back to Nnamdi Asomugha's tenure with the Raiders. He was a Pro Bowl cornerback in each year from '08 to '10, and was a first-team All-Pro choice by the AP in '08 and '10. But Oakland's defense ranked 22nd, 27th, and 10th those three seasons in Net Yards per Pass. The problem: over that three-year period, Asomugha was targeted far, far less often than every other cornerback in football. Stanford Routt and Chris Johnson were not great players, and the Raiders safeties and linebackers weren't standouts, either. Teams would be forced to throw away from Asomugha, but that wasn't such a big deal because the other mitigators were below average.
So a cornerback — or any mitigator — is only as valuable as the person he's trying to mitigate and the other mitigators on his team. A pass defense is only as good as its weakest link. If that line sounds familiar, it's because it's the same way I've described offensive linemen when it comes to pass blocking.
The attacker/mitigator description is more precise than the offense/defense tags, because offensive linemen (on pass plays) are a lot like defensive backs (on pass plays). Joe Thomas may be the best offensive linemen in the NFL, but well, who knows? Thomas' value is actually limited by three things:
Like the Revis and Branch scenario, Thomas' value is limited by the ability of the opposing pass rusher he's facing. It's great to roster Joe Thomas if you're playing the Chiefs, but not quite as important if you're playing a team with a below-average pass rusher at RDE/ROLB.
And, like Revis, Thomas' value is limited by the ability of his fellow offensive linemen. If Cleveland has a terrible right guard, it doesn't matter how long Thomas can mitigate the opposing right edge rusher if another defender is getting to the quarterback in two seconds.
There's a third factor that limits Thomas' value: the ability of the Browns quarterback and receivers. Call this the Jonathan Ogden problem. It doesn't matter how good the left tackle is if his quarterback is that much of a liability. That's why Ogden caused a glitch in the Approximate Value calculation: how much value was he really adding if the Ravens passing attack wasn't taking advantage of its stud left tackle?2
When discussing the value of an elite left tackle, I wrote that he's only truly valuable when:
The All-Pro left tackle does his job, and the other four, five or six blockers do their job, and the quarterback makes the right read and an accurate throw, and the receiver makes the catch, and on this particularly play, the player(s) that was (were) blocked by the All-Pro left tackle would have gotten to the quarterback in time to prevent him from throwing and completing said pass had he (they) been blocked by a replacement-level tackle.
That's a lot of ands.  If we want to translate that to cornerbacks, you could write that an elite cornerback is only truly valuable when:
The All-Pro cornerback does his job, and the other cornerbacks and players in coverage do their job, and the opposing quarterback did his job correctly3 and the receiver the cornerback was covering did his job correctly,4 and on this particular play, the receiver would have made the catch had he been covered by a replacement-level cornerback.
Again, a lot of ands.  Football is a team sport, and there are a lot of ands when we look at the attacker side of things, too.  But the attackers bring about a wider variance in results, and are always going to be valuable.5 The mitigators?  They do seem to be more situation dependent.
That's enough for Part I.  I'd love to hear your thoughts.